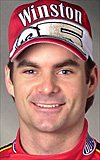 Jeff Gordon
Jeff Gordon
2001 victories Kmart 400, UAW-DaimlerChrysler 400 at Las Vegas, MBNA Platinum 400 at Dover, Brickyard 400 at Indianapolis, Global Crossing @ The Glen, Protection One 400 at Kansas Speedway.
Born: Vallejo, Calif.
Resides: Mooresville, N.C.
Family: His wife, Brooke.
Team: Hendrick Motorsports
Car: Chevrolet
Sponsor: DuPont Automotive Finishes
Car owner: Rick Hendrick
Crew chief: Robbie Loomis
2000 review: Gordon was out of the championship picture for the second consecutive season and finished ninth in points, the lowest since his rookie season in 1993. He did win three races and three poles and, toward the end of the year, showed flashes of returning to the form that helped win three Winston Cup titles in four years.
2001 outlook: If Gordon and Loomis can continue the solid relationship they had working late in the 2000 season, Gordon should move back into contender status for the series title. If not, look for another big shake-up at Hendrick Motorsports.
Did you know? Gordon set the all-time record for consecutive victories on road courses (six) with his win at Sears Point in June 2000 and now also holds the record for most road course victories (seven) with his win at Walkins Glen in August 2001.