Milestones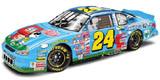 JEFF GORDON Driver, Hendrick Motorsports/DuPont Automotive Finishes Chevrolet Monte Carlo
Birthdate: August 4, 1971
Birthplace: Vallejo, CA
Hometown: Pittsboro, IN
Height: 5' 7"
Weight: 150
Family: Married (Brooke)
WINSTON CUP CAREER HIGHLIGHTS


-- Became the youngest driver in Winston Cup history to achieve 50 career wins. Won three races in 2000 at Talladega, Richmond, and Sears Point where he set a record for six straight road course victories. Tallied 11 top-five and 21 top-10 finishes along with three poles. Finished ninth in Winston Cup points.
-- Youngest driver to win the Daytona 500 twice and finished the 1999 season with seven victories becoming the first driver to win the most races for five straight years. Also won the most poles with seven and led the most laps with 1,320. Finished the season sixth in points and had 18 top-five and 21 top-10 finishes.
-- Won the 1998 NASCAR Winston Cup championship. Significant accomplishments during 1998: 13 victories, seven poles, 26 top-five and 28 top-10 finishes. First driver to win the Brickyard 400 twice. Won the "Winston No Bull Five" twice. Tied two modern era records with 13 wins in one season and four wins in a row. Won a record $6,175,867 in regular season earnings and over $9 million in overall earnings.
-- Won the 1997 NASCAR Winston Cup championship. Significant accomplishments during 1997: 10 victories, one pole, 22 top-five and 23 top-10 finishes. Youngest driver to win the Daytona 500. Second driver ever to win the "Winston Million." Broke regular season and overall earning records, becoming the only driver in NASCAR history to exceed $4 million ($4,201,227) in regular-season winnings and passing the $6 million mark($6,375,658) in overall earnings.
-- Finished the 1996 season with 10 victories, five poles, 2,313 laps led and had regular-season earnings of $2,484,518 to lead in all those categories. Finished second in championship points, only 37 behind teammate Terry Labonte.
-- In 1995, became the youngest Winston Cup Series champion in NASCAR's modern era in only his third full season. Significant accomplishments during 1995: Seven victories, eight poles, 23 top-10 finishes, 2,610 laps led and $4,347,343 iin overall winnings -- the most ever by any NASCAR driver.
-- Won two Winston Cup Series races in 1994, including the inaugural Brickyard 400 at Indianapolis Motor Speedway. The other victory was in NASCAR's longest race, the Coca-Cola 600 at Charlotte Motor Speedway. Won more prize money, $1,607,010, than any NASCAR driver during the 31-race season and had seven top-five and 14 top-10 finishes.
-- 1993 Maxx Race Cards Rookie of the Year in the Winston Cup Series, becoming the first driver ever to win rookie honors in NASCAR's two top divisions (Busch Series, 1991).
-- Won 125-mile qualifying race at Daytona in February of 1993 -- the first rookie in 30 years to accomplish that feat.